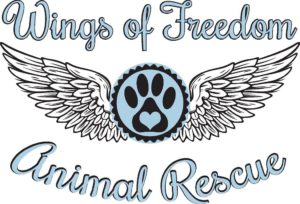 Wendy's Charity Choice!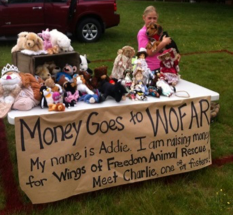 WOFAR is an all-volunteer non-profit organization which issupported 100% by donations and fundraising.  It is the donations which allow them to help the animals.  They educate the public on rescue and help educate owners in responsible pet ownership.  They do many community events and also support other Rescues in need.  WOFAR was born out of their desire to help animals in need.  They are a 501c3 Non-Profit Organization who works diligently to be the voice of those animals in need.  WOFAR works hard to rescue domestic animals from shelters and abuse situations and to rehabilitate, maintain health, train and find placement in loving homes.
Why Our Family Volunteers and Donates to Wings of Freedom Animal Rescue (WOFAR)…by Wendy Hauptmann
It started out because my (at the time 10 year old) daughter (who loves animals) decided that the rescued goats, rabbits, and cows we already had, were not enough…she wanted to rescue a dog too!  Before jumping into this I decided that it would be good to do some volunteering with a dog rescue first, possibly foster a dog to see if she truly was ready for such a big commitment.  The goal: if she stuck with it for at least 6 months, she could adopt her own.  After researching dog rescues, we started attending some rescue events in our area.  Not only was WOFAR in a location near us, but they allowed 'Jr.' volunteer's to be a part of the rescue!  After going to a few adoption events and asking lots of questions, we basically fell in love with this rescue.  It was apparent to us that not only did they rescue dogs; they truly embodied their vision and mission.  We love the fact that they don't house the dogs in a shelter.  All their dogs go into foster homes, being socialized, learning to be part of a family, being nurtured, trained and loved, all in preparation to give them the best possible chance at finding their forever home!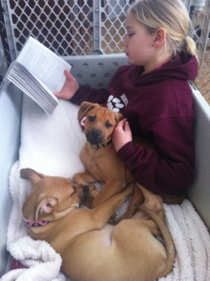 We have volunteered for numerous events, donated our time, energy and money to WOFAR and have fostered 6 dogs (see pictures attached), which have all been placed in wonderful 'FURever' homes!  We've experience the love of a pup…it's like they know you love them and are there to help them.  We've met others who share in the same interests and worked side by side with them for a common goal.  I've seen my daughter who loves animals, yet is on the shy side, grow as a person.  I see her forming her identity and the sense of pride she feels in herself.  It has not only taught her to be a more responsible and understanding person, but has fueled her passion and love of animals, even giving her the courage to do a public speaking contest on The Steps to Foster a Dog and why she thinks it's so important for more people to get involved!  I see my daughter wanting to be part of a solution.  She is raising awareness for something we care about and maybe teaching someone else in the process.  She is being a voice for someone who doesn't have one…what an empowering feeling!  This has definitely increased my daughter's self-confidence and has provided a natural sense of accomplishment. The more we give and help the happier we feel!   These are all lessons that I want to teach my daughter and am able to do that through volunteering with Wings of Freedom Animal Rescue.  That is why I do it!  And btw… yes, Addie did get a pup to keep for her very own!
How WOFAR Fits into Powerful Accountings Core Values
Passionate – What keeps WOFAR going is their passion for change, their passion to save these animals lives, their passion to educate and involve others in why they do what they do.  Their passion is making a difference every day!  They truly care about these animals and sacrifice for them every day….It's inspiring!
Observant – Observation is critical to many of these animals survival and their placement in the right home.  These folks are able to observe the animals, the environment, having situational awareness and being able to interpret what it is that others are communicating both verbally (the people) and nonverbally (the animals).  Doing this subtlety as well as purposely, allows them to not only see, but also to understand what is going on with each of the animals that come through their rescu, and then pass that information along to assist in each animal's success in finding the 'FURever' home that is best for them!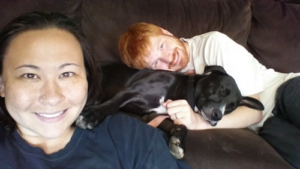 Wisdom – WOFAR embodies wisdom by having experience, knowledge and good judgment.  Every day the WORFAR volunteers are sharing that wisdom unconditionally with the public in some capacity, be it an adoption event, an animal awareness presentation at a school or in the community, or a home visit to a potential adopter.  They also continue to educate themselves, are disciplined in their mission, learn from their mistakes, show love and patience, know their priorities, and are trustworthy and steadfast.  All qualities of Wisdom!
Excellence – This rescue demonstrates the quality of being outstanding in what they do.  They are continually reflecting on where they are and how they can improve on what they do.  They contribute their best to the world while challenging others to do the same!  WOFAR understands where they fit in and are making their mark in the world as they attempt to make it a better place by finding their animals a wonderful, loving home!  They contribute and honor these animals as they move forward in their vison of saving animals!
Respectful – The feelings of deep admiration for the animals that come through this rescue is evident in everything these volunteers do!  They stand up for these animals and what they believe in.  The thought that goes into how decisions will affect the outcome for each animal is impressive.  They are aware that the respect of these animals is a key aspect in their lives, as well as in the lives of those who adopt them.  This respect instills positive relationships with the animals and the families resulting in successful placements!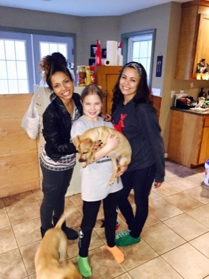 Fun – WOFAR understands that having fun also means healing!  Many of the dogs that come through the rescue have been abandoned or abused in some way.  They are scared and untrusting.  Part of the healing process for them is to be immersed in a loving, patient and understanding foster environment where they can learn that it is okay to trust and have fun!  It's scary at first, but in a supportive foster environment, allowing the time needed to adjust, the healing begins and these animals learn what it means to have fun!
Understanding – I've been impressed by the fact that these folks that I work with at WOFAR are able to listen with the intent to understand verses listening with the intent to reply.  Being sympathetic and having the awareness of what these animals have gone through, as well as taking a genuine interest in them, is helpful in predicting how the animals and potential adopters will progress through their preparation for adoption.  Truly being a good listener to what people are saying and having a good understanding of each animal that comes through the rescue ultimately results in a successful adoption placement!
Loyalty – The willingness and investment of time, energy and their own money that the WOFAR volunteers put in and have for these animals is awe inspiring!  Their loyalty shines through and it's apparent that they will never give up on these animals!  It's no wonder why they are growing so fast and having so much success at achieving their goals as a rescue!  I'm proud that my daughter and I are a part of this rescue and are helping to save lives every day!
For more info:
Click here for Facebook
Go to the website